The dashboard is the first screen you will see at every login. From the dashboard, you will be able to access: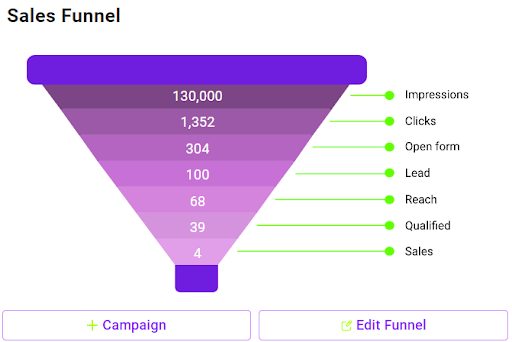 The sales funnel data is built using your past and present campaign data. The stages within the funnel are determined by your business profile's distribution method and industry. You may find some funnel to be either "Lead Driven" or "Online Purchase Driven". To learn more about Sales Funnel, click here. The metric at each stage is updated when you run new campaigns.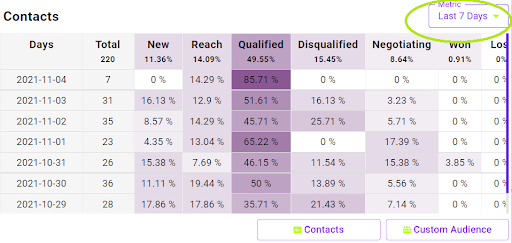 The contact graph captures the total number of leads generated from existing campaigns, as well as the lead progression throughout the customer journey. In the example above, the user's campaigns have generated 35 new leads on 02-11-2021; out of which 14.29% of those leads were contacted by their sales team, 45.71% was deemed qualified by their sales team whilst 25.71% was considered to be disqualified. Click here to learn more about lead generation, lead status, how Peasy improves lead quality and what you can do to improve your lead to sales conversion rate.
The campaigns graph captures the collective performances of all active campaigns within the reporting date range. The graph will not contain any data if you do not have any active campaigns within the reporting period.

You can select the reporting date range from Last 7/15/30 days at the range drop down list.
You can edit, review current and past campaigns from the campaign list screen.

Questions Frequently Asked