If you are reading this post, you have either considered running Facebook ads, currently doing it, or have already done it previously. I am sure you would or already had these concerns or issues but they are either unsolved or you are having trouble understanding it. You are at the right place if this is you.
Has this thought ever crossed your mind?
"Why is my Facebook Ads fluctuating?"
"Why has my Facebook Ads performance seems to be good in the beginning but is now declining?"
If this is you, your Facebook Ads are probably affected by one of the reasons below:
Meta Rebranding

Ad Fatigue

Audience Saturation

Increased in Competition
Mark Zuckerberg, CEO of Meta Platforms (formerly known as Facebook) has recently announced it will be rebranding in order to create an upcoming generation of digital universe, known as Metaverse. So how does this affect Facebook Ads?
Facebook Ads are known for the ability to target specific segments or groups of people using Core Audience, Custom Audience (CA) and Lookalike Audience (LAL). Based on the settings set, Facebook will automatically find for audiences and target them allowing a wider reach of your post or advertisements.
At the same time, Facebook will gather information and data with users that have interacted with your page. Information and data includes their age, demographics, behaviours, interests, the devices they are using, the speed of their internet connection and what type of content/ads they are most likely to interact with such as follow, share, like or comment. This is known as 'Detailed Targeting'. This allows the users to market their page/product/services to a more refine target, ensuring a better conversion rate.
However, Meta has removed some Detailed Targeting options that are related to subjects of political affiliation, race or ethnicity, religion, sexual orientation and health. This decision was made due to concerns of misusing or abusing these options. Facebook reassures that although a lot of the stated categories were removed, the functionality of Detailed Targeting will still remain the same. For those categories, users can still use Custom Audiences (CA) and Lookalike Audiences (LAL) to reach to them if needed.
If you are having troubles with your CA and LAL, click here to learn more.
Ad Fatigue is when your targeted audiences has seen your ads multiple times but have not shown any interest or interacted with it in any way. But why does this happen?
Humans tend to have selective attention, where the brain selectively chooses certain information to focus on ignoring the rest. It is highly likely that your target audience has the tendency to ignore ads that are selling. In simpler words, unfortunately, your ads is being ignored by your target audiences. Before fixing this issue, you need to check on a couple of things to be 100% sure that your Facebook Ads performance is dropping because of Ad Fatigue.
Increase in Cost per Click (CPC) over time.
Decrease in Click Through Rate (CTR) over time.
Find ads that has increase in CPC yet a decrease in CTR and start with them. This method helps to analyse and determine which ads are your target audience ignoring and not responding to. Alternatively, you can also use Facebook Ads Analysis Tool.
How to fix this issue? You can start by
Changing your ad copy.
Changing your creatives or visuals .
Changing ad formats or approaches: image, video, carousel, instant experience, or collection.
Run various A/B testing on your ads and see which gets more results.
Do keep in mind to be mindful when performing changes to your ad campaigns. Facebook's algorithm would need minimum 50 conversions per ad set to fully learn and adapt from the new datas and provide you with the best results and analysis.
Audience Saturation happens when your ads is gradually not reaching new set of audiences. The majority of your impressions, views or even interactions are coming from audiences who has already seen your ads before. You can measure with frequency to view how many times each person has seen your ads.
This does not mean high frequency is bad. This would ultimately come down to your goals. If your end goal is to get more conversion and sales, high frequency may not work best in your favour. If your end goal is to spread brand awareness and branding, high frequency is what you would need.
Your Facebook Ad performance will decrease when your audience stops responding to it (because there is no conversion taking place). Below are a few metrics that you can use to check if your ads has audience saturation:
Reach: Over the lifetime of the campaign, the number of people that saw your ad at least once.
Audience Reached Ratio: Percentage of the estimated audience size you have reached at the moment.
Frequency: Over the lifetime of the campaign, the average number of time per person saw your ad.
First-Time Impression Ratio: Percentage of your daily impressions from first time viewers of your ad set.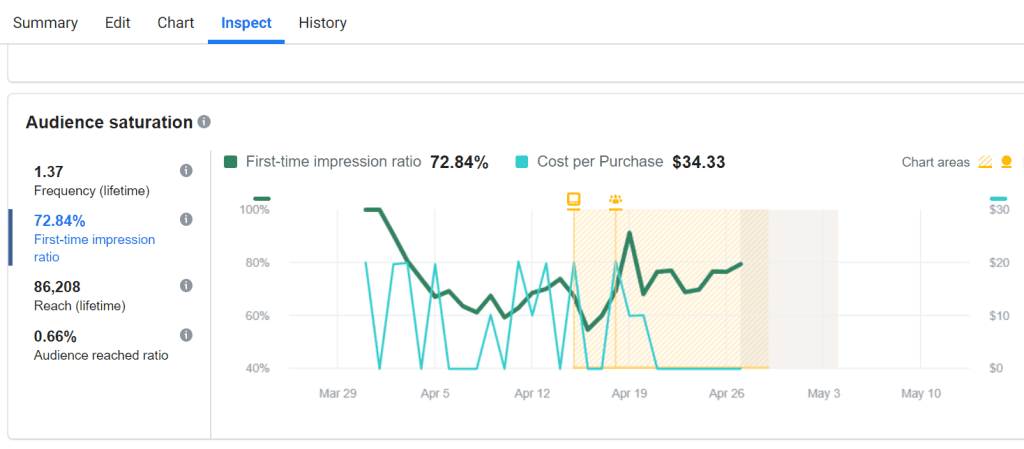 At this point, you have maxed out of your current audiences. So, what should you do next to improve your Facebook ds Performance?
Diversify your current audiences. You can do this by utilising Lookalike Audiences and stretch the percentage slowly, increasing your audience reach to a larger base.
Test different set audiences. Use the Custom Audience function to create different audience segments based on the previous audiences' categories that you have yet to target before. For instance, previously they are targeted based on only location, you can try to segment one for income.
Try alternate audiences. Maybe you have been posting too often on Facebook, you may want to opt other different ways and alternative to reach your audiences.
4. Increased in Competition
Although Facebook doesn't openly discriminate between big and small businesses, one thing we often overlook is the competition market. Your target market may be overlapping with a franchise or a bigger company and this would also affect your Facebook Ads performance. This is because you are competing with companies that may be 5 – 10x bigger and more well-known then you.
Unlike Google Ads, Facebook Ads doesn't inform you of your ad rank against your competitors. Well, there is actually a way to tell the percentage of the overall competition on the selected period, called Auction competition.
This is how Facebook makes sense of it:
There will be a data point of 20% and -20% that indicates high competition (20%) and low competition (-20%). According to Facebook, averagely, your data point is considered stable if it is between 20% and -20%.
For instance, your data points at 6% that day which means that your competition on the selected period is higher then 6%. This is considered normal. However, if you see your data point in auction competition graph goes above 20%, this means that the competition market is increasing. If this continues to take place, you may need to consider changing your approach.
One method for solving this is by running promotions for an alternate goal. In the event that it's not something that you can do, try targeting a new set of audiences and change back to the same segment after a while.
Another method for countering the decrease of your Facebook Ads performance because of closeout rivalry is by attempting new offers and discussions. The options you can tryout with depends on your industry, category, the size of the business, and your rivals' performance.
Now that you know the few reasons behind the drop of Facebook Ads Performance, let's go in depth on the Custom Audience (CA) and Lookalike Audience (LAL). CA and LAL is the most commonly used in Facebook Ads to reach out to your preferred target market and audiences. Click here to find out if you are usng them correctly.
Explore our live B2B demo
Hear what some of our B2B users have to say about Peasy
Mr Shahrul believes Peasy is perfect for small business
Mr. Shahrul, owner of Trivantage Partners Sdn Bhd (a food packaging company) is excited about how Peasy has simplified and automated marketing and sales for his company. He believes that small businesses, which are always short on time, can benefit from Peasy's automation.