Would you invest RM 24,254 on ads to get RM 1,007,645 sales?
Our sales increased 4.8X from Q2 to Q3. Our Q3 sales is higher than Q1 + Q2 combined. We've doubled our annual sales within a single quarter.
Almost 100% of our sales can be attributed to our ad campaign. We have increased our ad spent by 6.6X from Q2 to Q3. 

We spent RM 24,254.74 on Facebook Ads from July to Sept 2021. In return, our campaign generated RM 1,007,645 sales. That's an amazing 4,154% Return on Advertising Spent (ROAS)!
We are in the software subscription business, our primary target market are SMBs. Since our category is rather new in the market, complete online conversion is not possible. We have to sell online-to-offline. Leads are generated through our FB & IG campaigns. Our sales team will convert qualified leads through WhatsApp, phone call and Google Meet. 

During Q3, our campaign generated 3,301 leads;  78.95% was considered to be Marketing Qualified Leads (MQL), the remaining 21.05% was disqualified by our chatbot and sales team.
Background: What is Peasy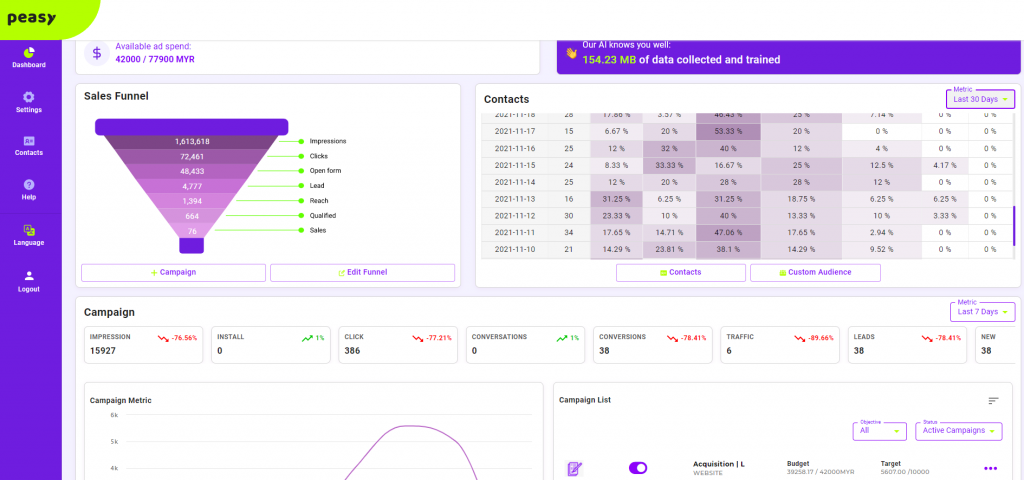 We are using Peasy Marketing to run our Facebook and Instagram campaigns and Peasy Sales to qualify, track and message our leads. In other words, we are using Peasy to grow Peasy. 

What's Peasy? Imagine a simplified AdEspresso + ManyChat + Leadsbridge + simplified CRM.

We build Peasy for SMBs like ourselves, SMBs who want a simple & affordable method to achieve online-to-offline sales (O2O) sales.

Although SMBs are increasingly prospecting for customers online, we believe their customer journey will continue to have an irreplaceable offline touchpoint. From restaurants, workshops and clinics who want to use online ads to drive store visits to B2B, insurance, direct-marketing that wants to generate leads online to feed their sales team.

Our objective is to create the least-effort and most cost-competitive option for SMBs to drive O2O sales. Present O2O solutions require near-perfect sales & marketing alignment; there's additional cost and complexity from re-engineering the sales process, retraining the sales team, distracting the sales team from key selling activities, investing in multiple softwares to hiring data analyst and co-ordinator. We want Peasy to be the least-change, least-effort and least-expensive option.
Our Setup: How we generate our leads and close our sales
Being a boot-strapped startup, our team is pretty lean. Our sales & marketing team consist of 2 tele-sales agents, 1 sales support, 1 designer, 1 person running marketing and myself (filling in gaps wherever necessary).

Peasy Marketing creates and manages our FB & IG Lead campaigns. Leads are categorized into different statuses which indicate their sales progression. We use statuses to manage and predict our pipeline as well.

Incoming leads are classified as New. To prevent lead decay, Peasy chatbot instantaneously greets new prospects on WhatsApp right after they register.  Unreachable numbers will be classified as "Disqualified", otherwise they are classified as "Reach".

Peasy chatbot will ask every reachable prospect qualification questions. Prospects which fail the qualification questions will be set as Disqualified, and will not be assigned to our sales agent.

If the prospect passes all of our qualification questions, the prospect will be assigned to our sales agent. Our campaign can generate up to 30+ leads per day, it will be overwhelming for our sales agent to call every reachable lead. The chatbot spares our sales team from mundane, repetitive qualification activity, and ensures a consistent qualification standard is applied on all leads.

We are using Peasy Sales for all of our WhatsApp and phone conversations. Peasy Sales allow our entire team to share 1 WhatsApp account. Each user can only interact with their assigned contacts, but when a contact is assigned from one user to another – all of the past WhatsApp chat log is transferred along. As admin, I can monitor every conversation to help my team devise better sales scripts, monitor my sales pipeline and co-ordinate efforts between teams. From the customer's perspective, they are chatting and calling one consistent phone number.
We have designed our chatbot based on purchase intent. Customers who are well-aware of Peasy and want to buy immediately are directed to our purchase portal. A lot of the SMBs prefer payment via bank transfer and require document trails. From our portal, our customers can upload their PO, signed invoices, and bank transfer script. Our portal is integrated with our accounting system, our sales-support personnel will follow-up on payment and perform final verification on all uploaded documents.

Prospects who require a bit of convincing and education can opt to schedule an appointment in our chatbot flow. Our sales agent has a priority call list, segmented in Peasy Sales. Once an appointment is made, our sales team will answer queries, perform further discovery and demo.

To help with follow-up, we used Peasy sales to send automated WhatsApp messages triggered by prospect's behaviour (when they download our  content, visit the pricing page, reminder for scheduled phone call). Whenever the prospect demonstrates any progress in their buying intent, Peasy will alert our sales team to follow up.

Our objective is to avoid spreadsheets and unnecessary data recording whenever possible. Whenever a prospect's status changes; Peasy automatically updates the corresponding custom audience on Facebook, refined our campaign's targeting – so we get progressively better quality leads. This way, sales doesn't have to perform data entry and marketing doesn't have to wait for the lead's status report. We are able to capture reporting real-time; every WhatsApp message, phone call, lead status and property change is automatically recorded and distilled into key insights. 

We still perform periodic data analysis, but that's usually meant for qualitative and narrative analysis – such as when we need to refresh our ads creative, streamline our customer journey.
Want more content such as this?
Get your own FREE Peasy account, and join our Facebook Group for regular content update and digital marketing classes.
Get Peasy FREE
Join our Facebook Group