What is the structure of your ad?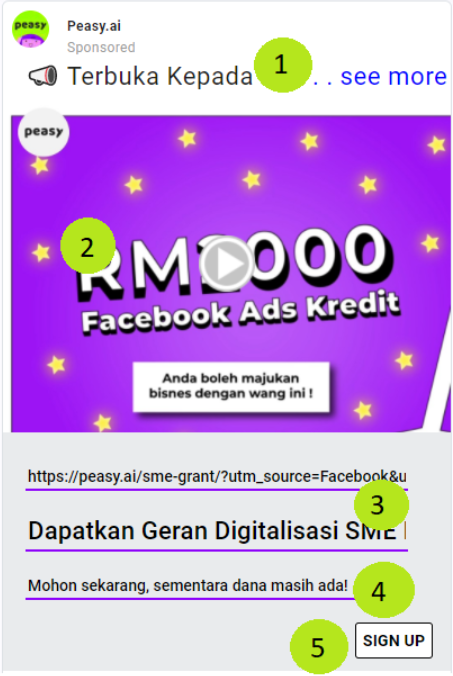 No
Explanation

1

Post text

. Maximum 500 characters, recommended 125 characters. The least attention-grabbing part of the ad. Usually, your target audience will only read this section last, after everything else within the ad has managed to seize their attention. We recommend that you do not place any link/URL within the post text; because it disrupt tracking and measuring, counter-effective to your campaign's objective (for example your target audience clicks on a link to a website instead of clicking on the lead form, in a lead campaign) and might risk getting your Facebook Page and Ad Account banned.

2

Visuals

. The most important and attention-grabbing part of your ad.

3

Headline

. Maximum 40 characters. Text will appear larger and in bold. Use the headline to summarize and grab your audience's attention. Use active verbs such as; "Download this.." or "Redeem your…". 

4

Description

. Maximum 30 characters. Use the description to further elaborate your headline, add a sense of urgency or further quantity the headline's offer. For example; "free shipping for orders above RM100" or "Discount ends in 30 days"

5

Call to Action

. Multiple options pre-set based on campaign objectives.