Firstly, we highly discourage you from editing our AI's recommendation manually. This is because when our AI provides its recommendation, it is based on data that is grounded, hence, the recommendation is safeguarded against errors and issues.
Say that you manually edit the bid, the results predicted by our AI can no longer be safeguarded. However, there are things that you can choose to manually do:
Using the examples above, you can target those
with
a Bachelor's degree ("include audience"),
and belong to
top 25% to 50% household income in certain ZIP codes in the US ("narrow audience"),
and
do not
have a Doctorate degree ("exclude audience").
Now, when Peasy recommends the audience segments along with the budget split, it is with the understanding and meticulous calculation of the population size available, and the maximum that you can spend on each segment within your campaign duration.

Bear in mind that if you decide to add a new audience segment and change the budget split for all other audience segments, the prediction by our AI will change accordingly. However, Peasy is no longer accountable for delivering the numbers. The change in the numbers is based purely on simple mathematical arithmetic and is not necessarily realistic.
You can manually edit your audience but it is not encouraged by Peasy as the numbers may be unrealistic and may affect the performance of your campaign.
You can change how your budget is split between 2 media channels for example Facebook and Instagram. Say that our AI recommends 70% of the budget be spent on Facebook and 30% on Instagram, you can change the percentage of the budget on both channels, for example, 30% on Facebook and 70% on Instagram. Click on the "update" button once you've made any changes.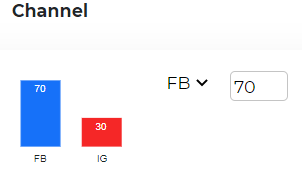 You can also delete any of the recommended audience segments. Tick on the audience segment that you want to delete, and click on the
"delete"

button.

If you wish to restore our AI's recommendation, click on the
"recommend audience"

button. Our AI will then restore its recommendation to its default setting.

Creating then deploying a campaign is only the first step....
Read More