What do I need before creating a new Facebook Ad Account
Why do you need a Facebook Ad Account?
You can't buy nor advertise on Facebook  and Instagram without a Facebook Ad Account. You pay for your ads through a Facebook Ad Account, and all learning and data from your campaign is retained within the ad account.
I was previously buying ads from my Facebook Page, what's the difference between that and Facebook Ad Account in my Business Manager?
Better role and access control. 
Ability to run sophisticated campaigns that produce better ROI such as dynamic ads, conversion ads. These types of ads requires connection to other assets such as Pixel, Catalogue – which are easier to manage thru Facebook Business Manager.
How to create a Facebook Ad Account?
If you have an existing Facebook Ad Account, you can skip this step.
Otherwise, follow the video instruction below.
What are the minimum access level to buy Facebook Ads on Peasy
Facebook Business Manager access: At least "Employee" access level when you're buying ads using Peasy. Not compulsory if you're using Facebook Ads Manager to buy your ads.
Facebook Ad Account: "Manage Campaigns" access level, but we recommend "Full Control – Manage Ad Account"
Facebook Page: "Create Ads" access level, but if you intend to purchase Engagement, Leads and Messaging ads – you will need "Full Control – Manage Page"
How to check if I have an existing Ad Account?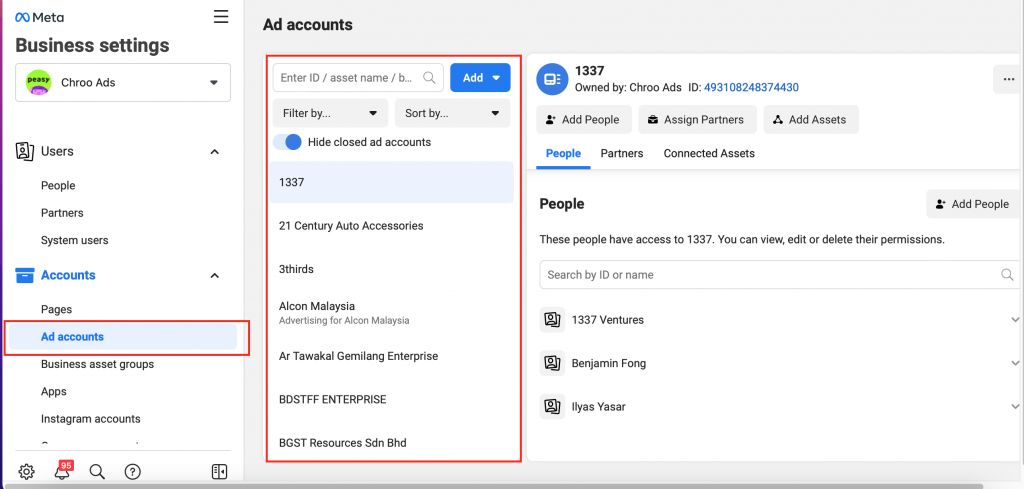 Click on "Accounts" on the left menu to expand the menu
Select "Ad accounts" within the expanded menu
If you have an existing ad account, you should be able to see a list of Ad Accounts on the right screen panel.
If you don't have ad account, you will be asked to create one.
How can I link a personal Facebook Ad Account to my Business Manager?
Follow the instruction here.
I can see Ad Accounts in my Facebook Business Manager but Peasy claims that I don't have an Ad Account or my Ad Account is ineligible.
How to check if my Facebook Ad Account is valid?
Head on over to https://business.facebook.com/adsmanager
Select the ad account that you want to test
Follow the instruction in the video.
What if Facebook claims my Ad Account has been disabled or deactivated?
If you see either of this messages:
Ad Account Disabled. This ad account, its ads and some of its advertising assets are disabled. You can't use it to run ads.
OR
Error. Your advertising account has been deactivated.
Please contact Facebook support here to re-activate your account. Reactivation chances are slim, it's easier to just create a new Ad Account.
How can I add a payment method to my ad account?
Refer to this link for additional information.
I can't add my credit card as payment method, and other payment related issue.
If you are having difficulty adding a new payment method, either because you do not have a credit card or your credit card has been rejected by Facebook, or Facebook demands verification before accepting your payment method, or you have outstanding payment with previous Facebook ads; please contact Facebook support here.
My business is a registered entity in Indonesia, my credit card is issued by a Malaysian bank. Which currency should I select when setting the payment method?
If your ads are targeting Malaysian audience, choose MYR. If your ads are targeting Indonesian, choose IDR. Do not use the same ad account to target 2 geographical market.
I can't find my name in People list when I click on "Ad Accounts"
Click on "Add People"
Select your name
Choose "Full Control – Manage Ad Account"
Click "Assign"
The "Add People" button or "Add" button is disabled when I click on "Ad Accounts"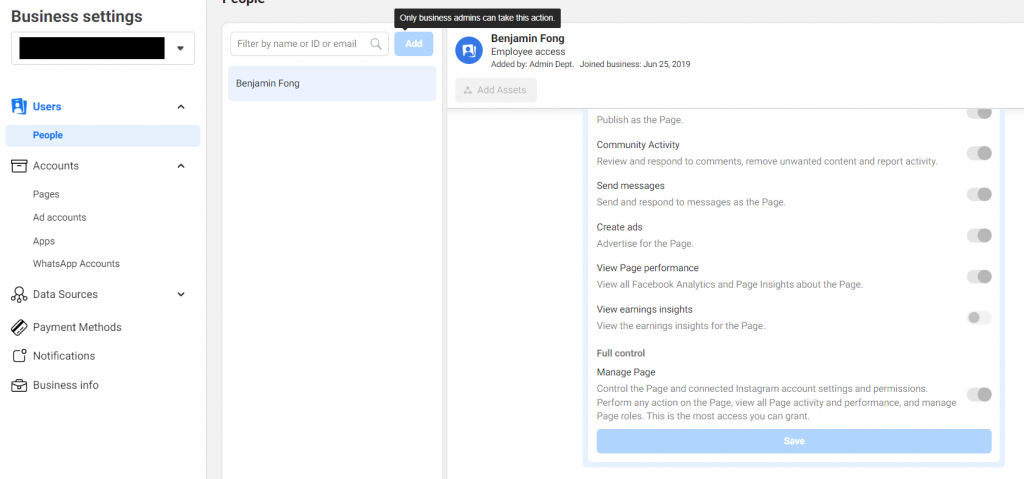 You must have "admin" access level in your Facebook Business Account to grant permission and create new account. Ask the owner of the Business Account to give you admin access. Learn more here.
Read about Facebook Business setup at our tutorial here.
Facebook states I have reached my maximum ad limit when I try to create a new ad account.

Please contact Facebook support here to appeal for a higher ad account limit. Your appeal might not necessarily be successful. We recommend that you use an existing valid ad account for your Peasy marketing.