Sales team motivation affecting your company sales performance? Learn 3 effective ways to give immediate result to your sales team motivation when applied!
Sales is an art. Handling a sales team is also an art. If it is beautifully crafted, the result is stunning. There are times when we, as a boss or manager, don't know how to make our sales team perform. Like this time. When you're searching for an answer to make your sales team better. Keep up the good work. You're at the right place. So here are 3 effective ways to boost your sales team performance immediately!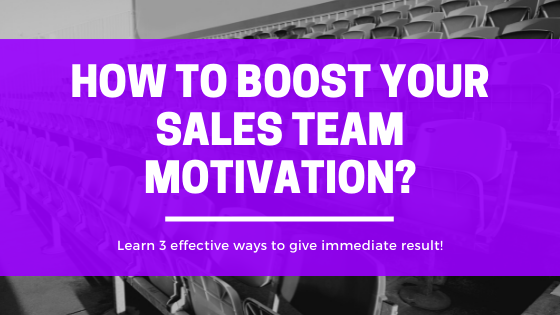 More Rewards to Boost the Sales Team Motivation!
First, more rewards or incentives in your commission structure plan with a clear & realistic roadmap to achieve the sales target set by the management. Salespeople are very goal-oriented and easily motivated when they know what to do, how to do it and the heavy reward waiting for them to grab. You need to carefully design your commission structure in a way that benefits both parties, the salespeople and the company. Both parties need to be happy with the commission structure. You don't want your sales team motivation sky rocket but your company losing profit!
Extra Rewards based on Sales Team Performance
Second, give extra rewards based on team performance to boost the sales team motivation. This way they will motivate each other every time. The hungry salespeople will get the less-achiever to do more work so they can get the rewards. Identify your hungry salespeople and keep reminding them about the extra rewards. Make sure the sales target you made cannot be achieved by one man. It needs a team effort to make it happen.
A Clear Picture of Career Path
Third, create a clear career path. Salespeople need to know that they are heading somewhere. They need to have a crystal clear vision of their future. The more they know about the career path, the easier it will be for them to increase motivation and achieve both company & personal goals together at a faster rate. If you do this your sales team motivation will increase!
And now, what you should do?
Sales team performance is important because customer satisfaction depends on how well you do your job as a salesperson or manager. So, increase sales team motivation by using these tips above to get a better result than before!
If you want to know more about how we help Nurrasya Beauty to use a calculative & efficient method with the help of our software Peasy Marketing to get only hungry salespeople to join their sales team, meet us at our webinar!
Please register here.