How can I know if my campaign has been published successfully? #
Click on the green Peasy logo at top left. You will be directed to Peasy dashboard.
At Peasy dashboard, look for the "Campaign List" widget. Published campaigns are listed as the "Active Campaigns", with a purple status toggle – it ought to resemble the image below.
I am unable to click on the "Save & Publish" or "Save" button. The button is disabled. #
Yes, click on "Save" button.
I am not ready to publish my campaign yet, can I save the campaign without publishing? #
Please check that:
There aren't any error messages. Rectify any errors.
Every audience segment is assigned to at least 1 ad.
What about campaigns that encounter publication error? #
If your campaign encounter an error during publication, you should receive an email and in-app notification – with a direct link leading to the fail campaign. Otherwise:
In the "Campaign List" widget, change the list to "Paused Campaigns"
Look for campaigns with red exclamation mark icon, similar to the image below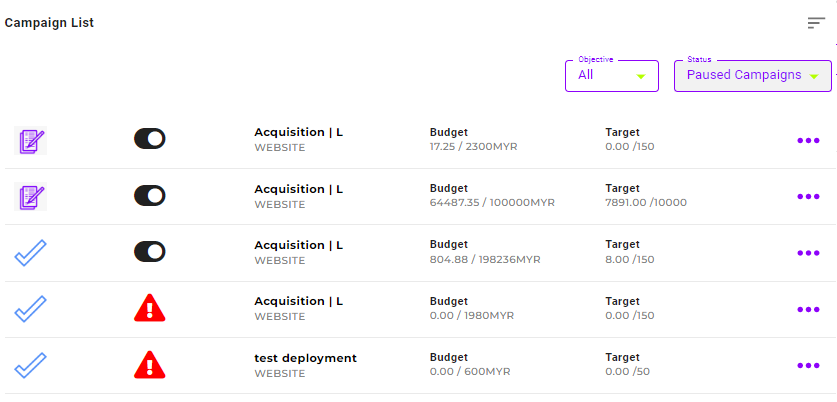 Do I need to setup anything at Facebook/Google Ad Manager? #
No, Peasy will create and setup the campaign for you automatically.
Are there any charges to publish a campaign on Facebook, Google and Instagram? #
Yes, you'll have to pay Facebook and Google to buy advertising space.
My campaign encounter a publication error #
Publication errors happens because of either two reasons:
Configuration error. Follow the instructions in the notification message to rectify the error, and publish your campaign again. If error continue to persist, please contact our support team here.
Policy violation. Your Facebook Ad Account, Page, Ad Creative and Messaging violates Facebook policy. Please check the your Facebook Page and Business Account status, ensure that they have not been disabled or deactivated by Facebook. If your Facebook Page and Business is in good standing and you're a prepaid user, please contact our support team here. 
I've published my campaign, there aren't any error - but my campaign have not begun to spend nor produce any result. #
Ads doesn't run immediately after publication. You'll have to wait:
24-48 hours for Facebook and Google to review your ad manually, ensuring that your ad message does not violate their platform policy.
After approval, the campaign spent will gradually increase.
Thus, we recommend that you publish your campaign at least 24 hours before your planned start date.
Please ensure every audience has at least 1 creative assigned #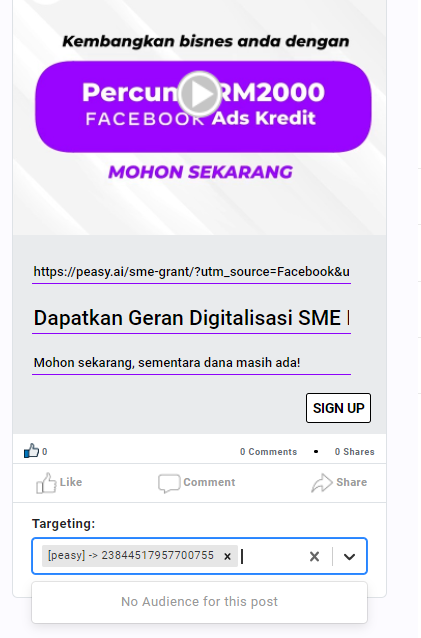 Every audience segment must have at least 1 ad assign to the segment.
If you are not ready to publish this campaign yet and  you have not upload any creative, you can just leave this screen WITHOUT clicking "Save" – all changes are automatically saved.
If you want to publish this campaign, please check that every audience segment have at least 1 ad assigned.
You do not have sufficient credit in your account, please top-up ___ to your account #
Your wallet balance is less than the campaign's planned budget. Please top-up your wallet.
Please create a top-up account to publish this campaign #
You have not created a prepaid wallet. Please sign up  and top up your wallet with your credit card/debit card/bank transfer or e-wallet.