I used to generate leads and enquiries using Messenger campaign, why does Peasy recommend Lead campaigns instead of Message campaigns? #
Peasy recommend to do lead generation because with lead generation objective, we can get data from Impression to Click, Click to Open Form, Open Form to Lead. Which mean the data for your upper and middle funnel covered as shown in the image below. When we have such data, Peasy can help create automatic Custom Audience and Lookalike Audience which give you more targeted audience.
In the other hand, with messenger objective, we can only get data from impression to click as shown in the image below. It is a waste because you can get more targeted audience with lead generation.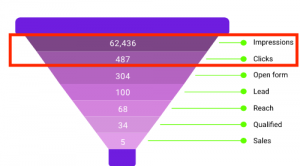 More targeted audience means more quality leads and more chances to close sales!