Syncing appointments to my Google Calendar #
You have a valid Google Calendar account
You have setup your inbox
Connecting Google Account #
Before you connect your Google Calendar to Peasy, please ensure that you have a valid Google account.
Login to your Peasy sales account here.
Once you've login, click on your profile icon on the top right screen. A drop down list will appear. Select "Profile Settings"
You will be directed to the Profile Settings screen. Locate the section labeled "Connect to Google Calendar account" and click on the "Connect" button.
A pop-up window will appear. Click to select the Google Account that you want to connect to Peasy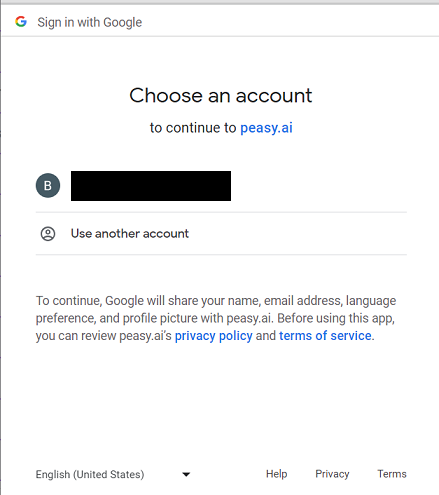 The following screen will appear. Click on "Advanced" link. Then proceed to click on the "Go to peasy.ai" link.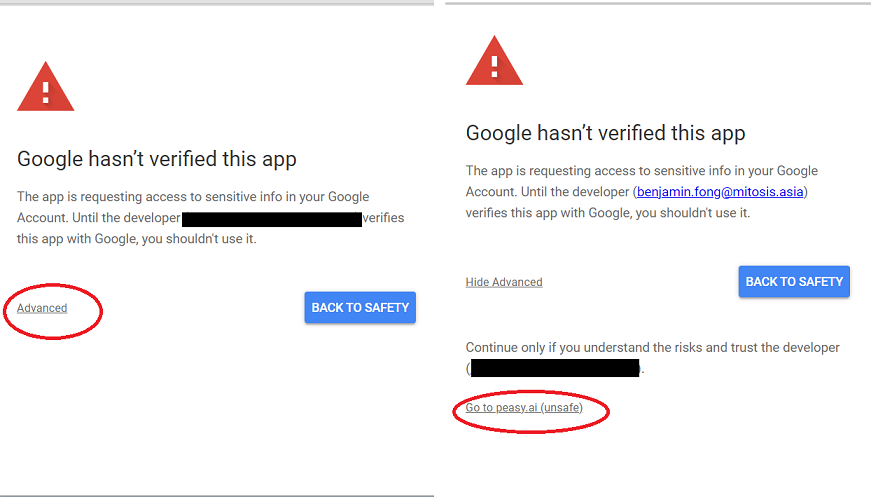 Grant Peasy access to your Google account by ensuring that all the required boxes are ticked. Finally, click on "Continue" to proceed.
Your Google Calendar is now connected to Peasy. The screen should read "Connected to Google Account", and the option to select conflicting calendar is now visible.
What's a Conflicting Calendar?​ #
Conflicting calendar is a useful function when you want to check your appointment availability against multiple calendars. For example, your appointment requires the attendance of both you and your colleague. By adding your colleague's calendar as conflicting calendar, Peasy will check both individual's availability when setting appointment time